Leather Baby, First Walker, Toddler & Children shoes. Designed in Australia.
Testimonials
"I bought a pair of these because they are so versatile in summer with little peep toe breather as well as winter with socks/tights. I love the style but I was mostly sold on the rubber sole for climbing safety.
They are soft and don't rub anywhere; easy on/off; stylish; great colour; trans seasonal; well priced; well made. I cannot fault them.
I bought another pair for my older child and wish they came in adult sizes!"

Kristy S - May 2021
Love these boots. Buy them every year for both my grandchildren. Quality, Style and fantastic Service. Australian Local business too. Buy Small in Victoria.

Sally R - May 2021
So happy with our purchase. The quality & craftsmanship of these shoes is excellent. A wonderful small business with great customer service.

Shelley L - July 2020
I love your kids shoes so much I wish they came in my size. I struggle to control myself to just buy two pairs. My little girl has the boots and they wear so well, they look amazing and she loves her special boots. I am sure she will love her sandals and runners too. Thanks for offering such a great product. 

Sara
"We received our sons Brooklyn hardsoles last week, and are so impressed with the quality and the fit. The leather is soft and comfortable and stood the test of the sand pit with flying colours! Will definitely be buying a pair for my daughter when she's up an walking."
Thanks again 

Taryn
"Wow, I was so surprised to receive my order today- such a fast turn around and I was absolutely delighted in the quality and absolute adorableness of the shoes!!! I think you might need to do matching adult shoes so we can match our trendy kids. Honestly absolutely beautiful!! Very happy and will definitely be buying again! 
Thanks"



Carlie 
'I recently bought a pair of the pink hard sole boots, and am so impressed! The softness of the leather make them comfortable, and best of all they are easy for my 4 year old to put on and take off herself. Would highly recommend !! Excellent value for money".

Christine
"I received the shoes the other day, they are so cute I love them.
I purchased them for my 2 year old son, he is actually quite particular about what shoe he wants to wear at the moment - he has only one pair that he wants to wear all the time. 
When I received them he wanted to put them on straight away I didn't have to try and bribe him, it was so cute he was wearing them with his Pj's…..lol"

Lilla
"So nice to receive an email from you. 
I have been using your shoes for my daughter Valentina since she was born and I love them! I started with the soft soles and now using the hard soles....her summer hard soles were fantastic so I can't wait to have these for winter. 
Keep up the awesome designs and beautiful customer service. I love that I get to support local business. "

Natalie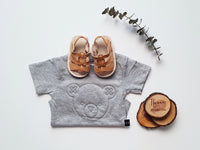 About Us
At Tikitot we offer unisex baby, first walker and toddler/kids shoes of the very best quality that are versatile, comfortable and bang on trend!! We like simplicity, minimalistic designs and want to steer clear of clichéd baby fashion. Our mainly gender-neutral designs are just perfect for style savvy parents looking for the perfect shoe to reflect their little ones personality.
End of season sale T&Cs apply
Prices as marked. No further discounts apply. No backdating sale prices. Cannot be used in conjunction with any other offer.